Dubai is a wonderful place. Its called by wonderful names like City of Gold, Land of Opportunities etc and its one of the most sorted tourist destination. In this article we will introduce you to various places to visit in Dubai. Visiting these places is an absolute must if you are visiting Dubai.
Dubai Miracle Garden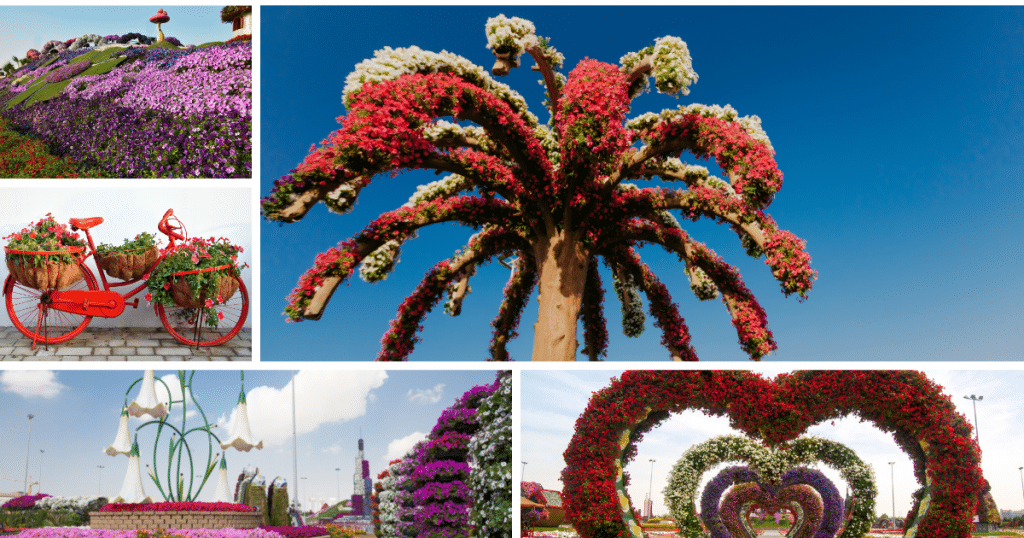 The first in the list which is my all time favorite is Dubai Miracle Garden.
Miracle garden is a unique garden not only in the region but in the entire world.
It's an extravagant outdoor recreational destination. Miracle garden has 3 Guinness World Records to its credit. It's currently the world's largest vertical garden. It has an Airbus A380 flower structure which is listed by Guinness World Records as the biggest flower structure in the world and it has a 18 metres topiary of Mickey Mouse weighing almost 35 tonnes and which is the tallest topiary supported sculpture in the world.
The garden spreads on a 72,000 sq m area located in Dubai land. It has in it more than 150 million flowers of more than 120 varieties. One of the most fascinating sights at Dubai Miracle Garden is the Hearts Passage. In addition to this there is a specific area dedicated to Disney. A 400m walking track is also there to take the flower art. In addition to this, visitors enjoy an enhanced experience in the form of sculptures kitted out with twinkling lights. There are other attractions include floral parades, street performance and Zumba sessions.
Dubai Miracle Garden is located near the Mall of the Emirates so its easily accessible by Dubai Metro. You can get down at Mall of the Emirates Metro Station and take a bus or car to reach Dubai Miracle Garden.
The garden is closed during the summer season from June to October so plan your visit accordingly to Dubai. You should at no cost miss to visit this wonderful garden, a unique experience of a lifetime.
Dubai Frame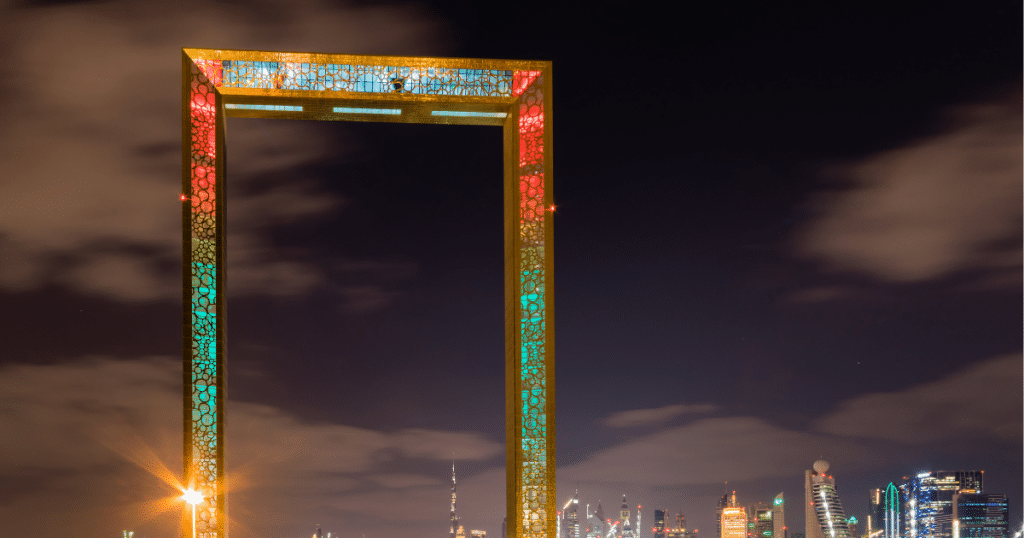 Dubai Frame is a place which you can't afford to miss if you are visiting Dubai. It represents an architectural landmark in the famous Zabeel Park in Dubai. This frame is the largest frame in the world. It has been described by Guardian newspaper as the "biggest picture frame on the planet"
It's a sheer beauty to watch which will make you feel fresh. Created out of Steel, Aluminum, Glass and reinforced Concrete, its designs are 18k Gold plated. Positioned in such a way that it represents landmarks of modern Dubai on one side and older part of the city on the other side. A viewing deck spans the top of the frame with glass bottomed floors from which you are able to look down almost 150 meters on the building's lower span. The lower span has a museum which shows the history of the city. The Frame was opened to the public in January 2018. The purpose of building this frame was to build a void of 150 meters by 105 meters to continuously frame the development of the past, current and future Dubai. You will just love this sight.
Burj Khalifa: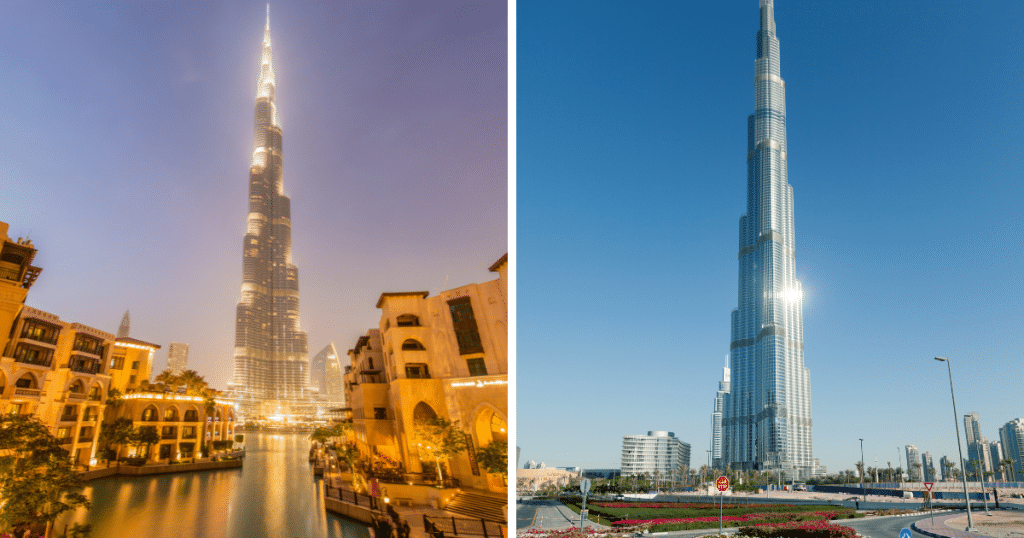 Designed by the famous Adrian Smith of Skidmore, Ownings & Merrill, Burj Khalifa is the tallest building in the world. It stands tall with a total height of 829.8 m which is 2722 ft with a roof height of 828 m (2717 ft excluding antenna but including a 244 m spire). The construction of Burj Khalifa started in 2004 and it took 5 long years to create this masterpiece. Till date it has maintained its record of being the tallest building not only in the Gulf but also in the world. It has a total of 57 elevators and 8 escalators. The building was initially named Burj Dubai but was later renamed in honour of the ruler of Abu Dhabi and the president of the United Arab Emirates Shaikh Khalifa bin Zayed Al Nahyan.
Burj Khalifa holds many world records a few are as below:
Tallest existing structure
Tallest structure ever built
Tallest freestanding structure ever built
Tallest skyscraper
Having the world's highest nightclub on the 144th floor
World's highest restaurant on the 122nd floor
World's highest new year display of fireworks
World's largest light and sound show staged on a single building.
It's the most prestigious building in the United Arab Emirates.
Dubai Aquarium and Under water Zoo: